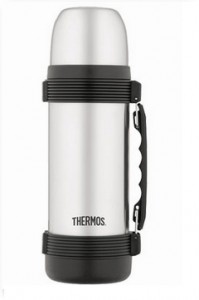 This morning I awoke at my in-laws house, journeyed downstairs, and headed to the Thermos in which my father-in-law pours his pot of coffee (he says to prevent the burned taste). As I poured my cup of Joe, I considered all things 'Thermos.' Some brands are synonymous with a product. Thermos is one of those. I asked my Father-in-law if he ever knew of a time when a Thermos was called something else. He couldn't.
In the 1970's, after throwing your Thermos in your lunch pail and heading to the office, you would have asked a secretary, "Can you Xerox this for me?" But by the 80's you would have learned that not all brands-as-synonymous are permanent. In my career lifetime, I have never requested my admin assistant Xerox something.  Copy it, yes.
Kleenex, Levi's, Speedo, Rolodex, Bobby Pins and other brands have or have had brand-product synonymy. Sometimes brand as product name is regional. In Texas, we'll ask you if you want a Coke, then ask you 'What kind?'
Having a brand-as-synonymous position does not guarantee a sale, it only means you were an originator or set the quality bar. Rejoice if you have it, but do not rest on your laurels. The last time my family bought a box of Kleenex, we were Xeroxing.