Job searching in the "new normal" is tough. You need a creative cover letter to set yourself apart in these post-recession times. Use your creativity to your advantage whenever appropriate.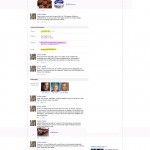 Here is my cover "letter" I am using for my current job search. It is a jpeg link that opens in a prospective employer's browser. The jpeg has the look of a facebook page complete with humorous status updates that all contain a subtle 'value add' I bring.
(Disclosure: The text you read above has an embedded subconscious message telling you to 'call jordan now at 817/889.1487 to schedule his interview .'  If you know someone who needs a marketing/business development person or strategic processes and leadership, send them my resume and a link to the FB cover letter or my more serious, professional cover letter if they are a bit more dour).