At jordanpfowler consulting we serve your business, entrepreneurial endeavor, or non-profit helping you work on your business, not merely at it.
Our proven Strategic Business & Marketing Plan is the road map to: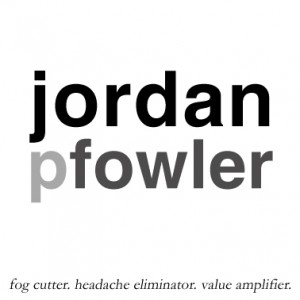 1) Cut Fog— We cut through the 'fog of business' with a profoundly simple method for clear, confident decisions that create forward momentum.
2) Eliminate Headaches–We develop and execute processes which eliminate those nagging problems which have made you consider throwing in the towel.
3) Amplify Value–We take what you do best, plug it into a Fender Twin, and crank it to 11 so the world can hear. This helps people who have a need that you can meet, to know, trust, and like you more, leading them to partake of your services and products. We build a systematic referral engine so you'll find your customers become your best sales force.
Achieving these objectives helps you to see revenue grow,  increases your decision making confidence, and offers you, as the business owner, a more sane, enjoyable life.
Unlike many agencies, we refuse to start at the tactical level. Instead, we begin by developing a clear, comprehensive core message strategic plan that then leads us to develop your tailored Find–>Curious–>Test–>Trust–>Buy–>Repeat–>Refer Client Cycle. Only after this strategic overview and client cycle is generated do we move to marketing tactics.
We have a proven process which is scalable from entrepreneurial launch to mid-sized businesses to international non-profits and corporations. Look over our Success RoadMap. We can tailor the planning and execution of your RoadMap to meet your specific needs (including offering some services a la carte').
Our clients have found that jordanpfowler consulting brings tremendous value and energy to their respective organizations, for-profit and non-profit.
While we can serve solely in an advisory role, many of our clients choose to involve us in the execution and management phases of their Success RoadMap.
Download the Success RoadMap to see how we can partner together to help you succeed.