How I wish my profile pic looked.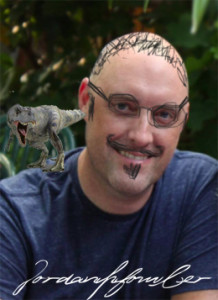 Stuff clangs around in my head.
Why? Because I'm an INTJ.
This is a place to get my thoughts into the light of day where they can become uncluttered, critiqued, and developed into useful ideas.
I write because I don't know what I think until I read what I say." – Flannery O'Connor.
Some might find the topics here a little eclectic for their tastes. Others might think, "Finally hope! I am not alone."
And another thing!  I am not optimizing this blog for SEO or anything really.  I do that all day long in the real world for clients. This is the anti-that approach. Doing it on this site would give me tired-head. So I'm thinking you pretty much tripped and fell into this site like Alice.
Whatever my thoughts, I will strive to write with a tone of love and respect, even when critiquing,  so that I don't become another cymbal clanging out meaningless communication in an already noisy world (I Corinthians 13) . Here is a bit more about some things that make my neurons fire more rapidly . . .
Favorites in no particular order

authors who paint with words: Anne Lamont and Colum McCann
soul feeding authors: Thomas Watson and James S. Stewart
writing teacher: Roy Peter Clark
teams: Liverpool FC, Dallas Cowboys, Texas Longhorns, US Olympic
ride: my two runs down Innsbruck Bobsled track
exercise: i like to ride my bike, lots!
upscale restaurant: Saint Emilion, Fort Worth
downscale restaurant: Baja Mexican
rock music I like: , Radiohead, Son Lux, Sohn, John Butler Trio (previous lineup)
burning music you might not have heard of: check out good listens section
jazzers: Avishai Cohen Trio, Snarky Puppy, Wolgang Muthspiel
composers: Prokofiev, Shostakovich and other Russians,
classical piece: Sonata for Violin and Piano II: Lento (d.2 trck.2) (A. Copland opens itunes)
futbol players: Couhtino, Luis Suarez, Steven Gerrard,
guy who needs a beatdown: Pretty Boy Floyd Mayweather
Stats
family: great wife, three awesome kids (girl, boy, girl), two fantastic step-sons
current calling;  Owner at Moon and Owl Marketing
past callings: Senior Account Executive at Miller Public Relations. Pastor of Teaching and Creativity, Pastor of  Creative Communications and worship @NorthWood Church, leader of dropknee  band, founder of The Clinic and worshiptrench.com
other jobs: swimming coach, distance runners coach, quasi-pro triathlete (back when the knees were young), driving range golf ball picker-upper (aka "target")
preachers: Alistair Begg , James S. Stewart, Louie Giglio,  John Piper
ancient preacher: John Chrysostom
BOBSLED RIDE
Best birthday present ever??? Two runs down the 76 Olympic Innsbruck Bobsled Track with the current #1 Austrian driver Wolfgang Stampfer at 70+ mph. Amazing speed and a huge dream come true.